Chicago is known to be the native motherland of the skyscraper and a key innovator of how large buildings are constructed today. Unfortunately, high structures come with a high cost, but a recent innovation has cut these controversial towers some slack through an eco-friendly practice of their construction and operations called LEED (Leadership in Energy and Environmental Design). Back in 2002, Mayor Richard M. Daley took the initiative to implement greener buildings and after less than a decade and a half, the city of Chicago is now also the home of the most LEED-built buildings that take in less energy and give out less CO2 emissions that your average skyscraper. According to an environmental news organization, Grist, "The Windy City counts 124 Leadership in Energy and Environmental Design buildings, including 32 municipal ones, scored by the U.S. Green Building Council for factors such as water conservation, use of energy-saving building systems, and proximity to public transportation. Four million square feet of green rooftops cool the city and help to absorb rain water."
Pictured: Chicago's City Hall Green Roof from Archfoundation.org 
1) What is its purpose and what issues prompted the rule to be put into effect in the first place?
It is well known that these monstrous towers give off scary amounts of emissions into our atmosphere and are one of the contributors of city smog that trends in large metro areas all over the globe. Chicago has been living up to its standards and throughout time has been keeping up with its participation in the national booming real estate market. After building up its legendary skyline, consequences of pollution have also caught up and became a public issue that needed to be addressed. This is when city officials realized promoting plants and trees to be planted in the urban weren't effective and that there was a bigger picture we needed to be looking at. Therefore, the mayor adopted U.S. Green Council's LEED program and began giving incentives to developers that incorporated LEED into their structures' designs and engineering.
2) Has the history or implementation of the regulation changed over time?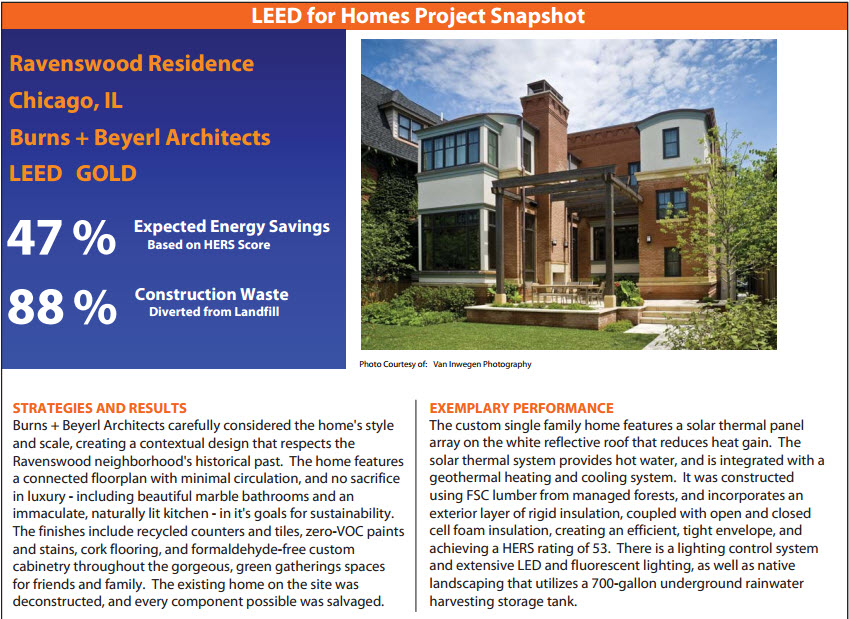 Pictured: House listing from the Green Home Institute
The LEED initiative has definitely evolved over time, not only does this go in effect for large buildings, but even residential neighborhood homes. Homeowners before would steer away from committing to a house in the city due to health and utility expenses, but now find energy saving buildings more appealing and are more willing to relocate to urban areas.
Online Sources:
http://www.archfoundation.org/2011/10/the-art-of-being-a-mayor/
Chicago takes the LEED in eco building
https://greenhomeinstitute.org/tag/chicago/